Climate Conversations: All We Can Save
These pieces are part of
Climate Conversations: All We Can Save

, a traveling group exhibition currently on view at Janice Charach Gallery, West Bloomfield Township, MI.

​

"When eight women artists from the Midwest and the East Coast of the United States came together via Zoom during the height of the COVID-19 pandemic to read and discuss a newly published book on climate change, none of them predicted what would evolve from their conversations.

The book, All We Can Save: Truth, Courage and Solutions for the Climate Crisis, edited by Ayana Elizabeth Johnson, Ph.D. and Katharine K. Wilkinson, Ph.D., contains essays and poetry by a cadre of diverse women policy wonks, scientists, writers, journalists, lawyers, activists and others who address the most critical existential issue of our time with the intention of offering different ways to effect change and mend the significant damage that we have caused to the Earth.

Mostly strangers to each other, the eight artists coalesced into a cohesive unit as they met regularly throughout 2020 - 2021 and digested the essays, section by section. Although the artists were inspired by different essays, there are a number of common themes that are expressed in many of their individual works. These include: the power of storytelling as a vehicle for providing alternate ways of looking at the non-human world and the climate crisis; the importance of community and place as a starting point for change; the interconnectedness of all living beings; the need to regard non-human beings as equal partners on Earth in order to restore what we have harmed; and the complex political, economic and social nature of the climate crisis. Each of the artist's responses to All We Can Save: Truth, Courage and Solutions for the Climate Crisis form the exhibition Climate Conversations: All We Can Save."




—Susan Hoffman Fishman

​

​

​
Surface Tension Part 1
2021
Looped Digital Animation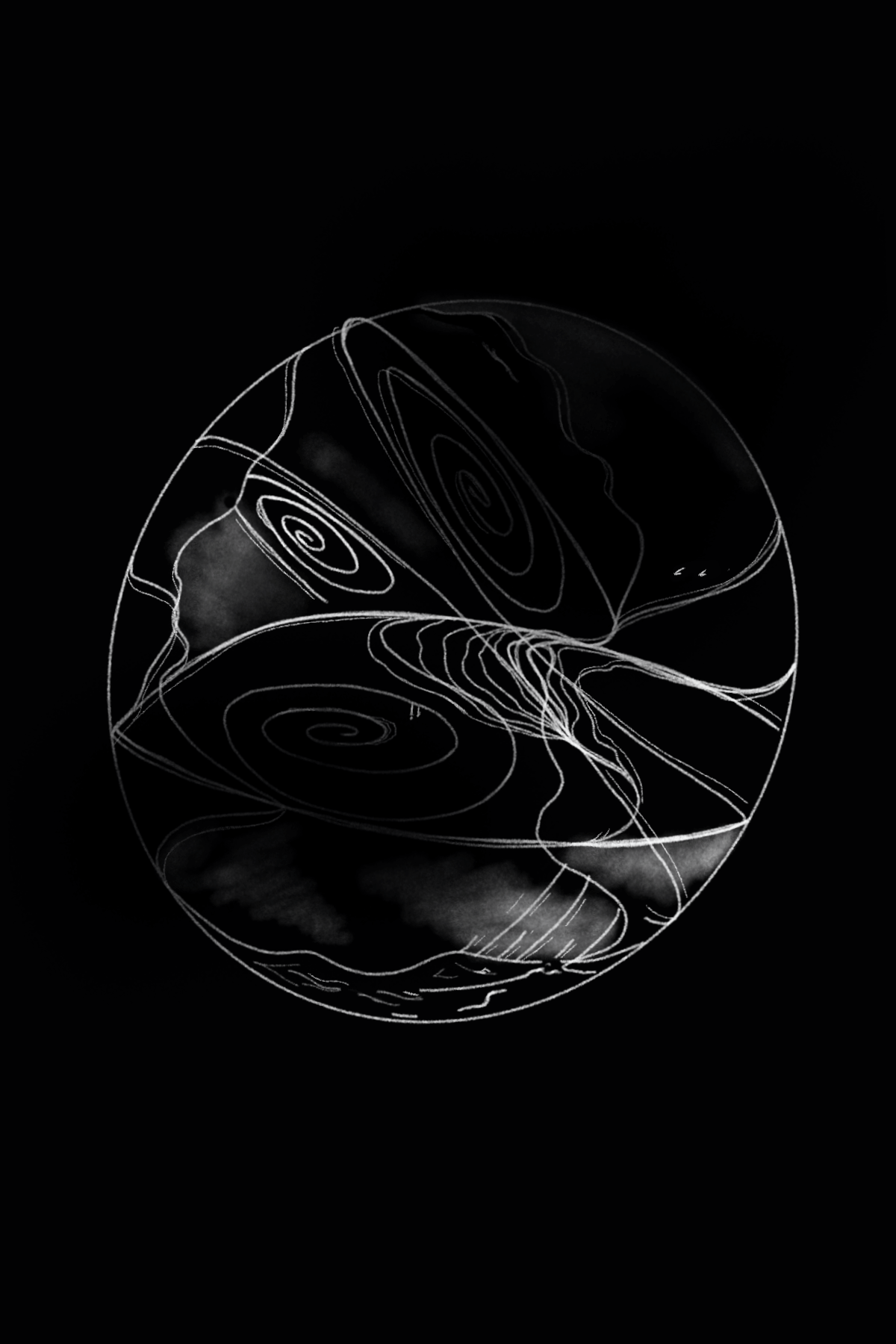 In Out Across
2021
Looped Digital Animation
1. Installation views of Surface Tension Part 2
2021
Looped Digital Animation; Floor Projection
Image by Laura Earl
​
2. Installation views of Surface Tension Part 2
2021
Looped Digital Animation; Floor Projection
Image by Leslie Sobel
​
3. Installation views of Surface Tension Part 2
2021
Looped Digital Animation; Floor Projection
​
​
Excerpts from Surface Tension Part 2
Personal Statement
"…all life is both sovereign and interdependent, and [each] element within creation (including humans) has the right and the responsibility to respectfully coexist as coequals within the larger system of life."
​
– Sherry Mitchell—Weh'na Ha'mu, pg 19, All We Can Save
For the last few years, I've been wondering more and more "what does it take to transform?" This question has led me to change my habits by ritualizing aspects of my life, my morning coffee, my art practice, my time spent outdoors. I've also actively begun to join groups of people who care about similar things to me. That wish lead me to this book group, and through it the larger circle of people, often very femanine circles, engaging in conversations around climate; facilitated, enriched, and expanded, by the essays contained in All We Can Save. As Leah Cardamore says in her essay "A Field Guide for Transformation," transformation takes "ever widening circles" of connection, community, and scale (pg 337). It can also require some kind of physical, temporal, or linguistic relocation and an acceptance that we may need to move back and forth between worlds in order to make long term change a reality.
The three pieces I've contributed to this exhibition reflect on life along the Atlantic Coast where I live and where I am currently the Artist-In-Residence with Cape May Whale Watch and Research, an eco-tourism and research organization in Cape May, NJ. Part of my process has included walking up and down local beaches in all seasons and witnessing the turbulent transitions that occur where land and water meet. The animation Surface Tension Part 1 references the experience of these vigils. The fact that I am not alone but rather a link in a spontaneous chain of watchers that line the beach staring out to sea. And the feeling of wonder at what it might be like to move beyond the world I currently inhabit.
In these walks I have become mesmerized by the drama played out by the tides and I have begun to think of this line between worlds as a sort of surface tension. Surface tension acknowledges that edges and boundaries exist forming a collective whole but that they often overlap, or are home to beings who thrive in moving back and forth between them making layers of interdependence, and creating change.
Before this residency I imagined going out to sea would make me feel entirely immersed in the water world. Instead, I found a new liminal space. Air, sky, ocean, and boat, each penetrating or taking up space in the others, yet distinct in their sovereign identities. Whales and Dolphins (the largest beings I've encountered) live so comfortably and near constantly in the act of breaking through the surface tension, bridging the water and air while Gannets (white bodied birds with black edging to their wings, bright yellow heads and grey pointed beaks) act out the inverse by diving headfirst like so many spears into the water as they hunt. In Out Across is a reflection on this ability to move through fields of reality while Surface Tension Part 2 takes the light patterns made on the surface of the water and projects them into the gallery. I have positioned the projection so that these patterns can be viewed as they would be from a boat but also so that we can walk beneath the projectors beam and, in a way, inhabit the space beneath the water's surface.
This work was created within the traditional lands of Lenni-Lenape and their relatives, the Nanticoke Lenni-Lenape Tribal Nation; the Ramapough Lenape Nation; and the Powhatan Renape Nation, The Nanticoke of Millsboro Delaware, and the Lenape of Cheswold Delaware. I acknowledge the continued presence of Lenape people in their homeland. - Information from nlltribe.com